Housing for Tourist Use Adeinés is a group of properties for tourism that owes its name to grandmother Inés. Owner of a small grocery store located on the ground floor of one of the properties, Inés was well loved in the neighborhood and known by all. People, when they went to her shop, used the expression "vamos á de Inés", a reference that we have taken to name this tourist project in honor of her memory.
The set of properties is made up of two flats and a small apartment located in the town of A Estrada, as well as a house located on the coast of Vilanova de Arousa.
Ideal for families, it has 3 bedrooms: 2 with a double bed and 1 with bunk beds (2 90cm beds), a living room with a double sofa-bed, a kitchen, a bathroom and an outdoor garden with a barbecue.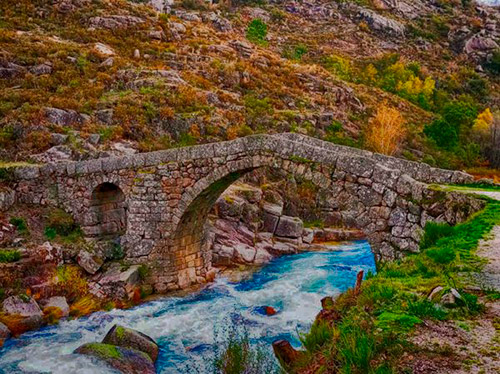 The Camino de la Geira y los Arrieiros is known as the Camino de la Geira y los Arrieiros, the Spanish-Portuguese Jacobean route that starts in the city of Braga and ends in Santiago de Compostela in a route of approximately 240 kilometers.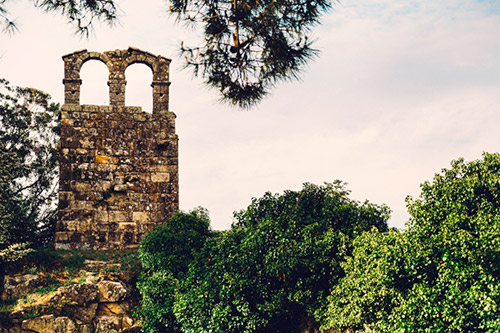 The tower is the only remaining part of the old Benedictine monastery of San Cipriano de Cálogo, founded by San Fructuoso in the 7th century. The monastery was destroyed by Norman raids in the 9th and 10th centuries.
Opiniones de Nuestros Clientes

Exceptional

Mejor imposible ☺Estaba perfectamente equipado con más cosas de las que te podías imaginar. En la cocina había agua fría en la nevera, leche, café, cacao, bollería y todo lo necesario para desayunar. En el baño había toallitas desmaquillantes y las toallas estaba súper suaves. Había ventiladores en el salón y en las habitaciones orientadas al sol. ☹Nada, estaba todo perfecto.
☺Apartamento excelente. Situado en una zona tranquila, edificio 3' planta sin ascensor. Buena comunicación con anfitriona. El apartamento muy limpio y cómodo. Nos dejaron comida para el desayuno. Todo perfecto. Volvería sin dudarlo. ☹Todo muy bien
Alojamiento muy acogedor. ☺El apartamento es muy chulo y estaba muy limpio y cuidado. Muy fácil aparcar. La anfitriona super atenta, un detallazo dejar cápsulas de café y cosas para desayunar. Un 10 todo, sin duda, para repetir
Excepcional ☺El apartamento es increíble. Esta todo súper limpio y bien decorado. Además, el propietario, un 10, súper atento y amable. Además, en el apartamento había de todo, hasta nos dejaron el desayuno. Sin duda, cuando volvamos a Galicia, repetiremos. ☹Todo genial
Fantástico ☺La limpieza y el detalle de las cápsulas de café y magdalenas que teníamos a nuestra disposición (además de las infusiones, sobres de sopa, tostas, mantequilla, mermelada, tomate, bollitos de leche, zumos...) ☹Que no tiene ascensor, pero ya estábamos informados por lo que no es criticable.

☺Cuidan hasta el ultimo detalle, no le falta de nada. Alojamiento que te hace estar como en casa.
☺Limpieza. ☹Sólo un baño para muchas personas.
Very Good

☺Limpieza impresionante.. Más limpia imposible. Al piso no le falta un detalle... cómodo, etc. Dina súper agradable y súper servicial. Más de un 10 le damos de puntuación por todo.

" Funded by the European Union – NextGenerationEU. However, the views and opinions expressed are solely those of the author(s) and do not necessarily reflect those of the European Union or the European Commission. Neither the European Union nor the European Commission can be held responsible for them."